3 teams win the HSBC-IBA Business Case Competition 2022
---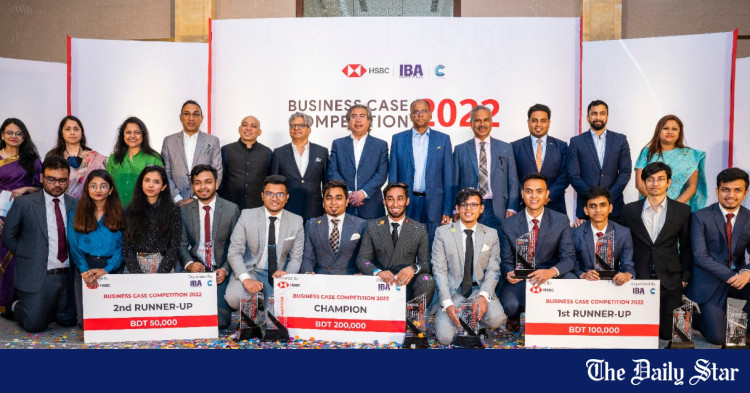 The winners, guests and organizers of the 2022 HSBC-IBA Business Case Competition. Photo: Collected
">
The winners, guests and organizers of the 2022 HSBC-IBA Business Case Competition. Photo: Collected
Three teams from Bangladesh have been selected as champions, runners-up and second runners-up in the 2022 HSBC-IBA Business Case Competition.
The Hongkong and Shanghai Banking Corporation (HSBC) in Bangladesh, in partnership with the Institute of Business Administration (IBA), University of Dhaka, recently organized the competition finals and awards ceremony.
The winning teams – IBA's Team Ramen, IBA's Team Extra Drill and IBA's Team Felix Felicis – are respectively selected from a pool of five finalist teams, HSBC said in a press release today.
The champion, runners-up and runners-up received a team development fund of TK 2 lakh; 100,000 Tk and 50,000 Tk respectively.
This year, the local competition brought together a total of 160 participants from different major universities in the country.
The finalist teams received a business case on a digital marketing-based startup and a few hours later presented their solutions and recommendations to a panel of judges.
The winning teams from Bangladesh will advance to the regional final to be held in Hong Kong, which will be attended by participants from the countries, according to the press release.
Md Tofazzel Hossain Miah, Principal Secretary, Prime Minister's Office, was present as the chief guest and Faruque Hassan, Chairman of the Bangladesh Garment Manufacturers and Exporters Association (BGMEA), was present as the special guest .
Md Mahbub ur Rahman, Managing Director of HSBC Bangladesh, and Professor Mohammad A Momen, Director of IBA, also spoke on the show.
Addressing the event, Md Tofazzel Hossain Miah said that Bangladeshi industries have made tremendous strides in adapting to modern innovation and technology.
Md Mahbub ur Rahman said that with Bangladesh's young population at an all-time high, it is now more crucial than ever to provide platforms that will help transform these young minds into future leaders.
As the world recovers from the aftermath of one of the worst pandemics in history, the dynamic world of business needs innovative, agile and adaptable leaders, said Professor Mohammad A Momen.
"This collaboration between HSBC and IBA has provided many students with the opportunity to learn and test these skills and showcase their talent over the years," Momen said.