Business plan suggests new yard for Pop-ups on the Bay of Quinte
---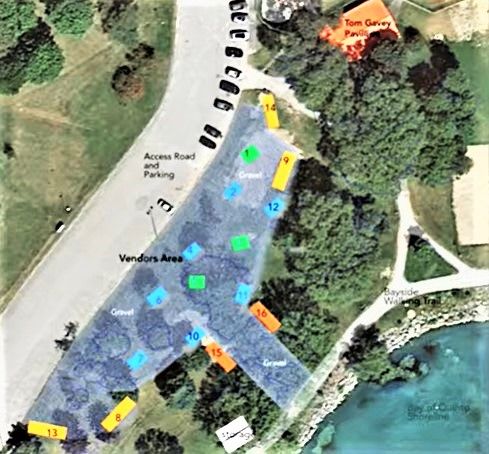 Content of the article
A new draft business plan from a consultant suggests the city is embarking on a series of further site improvements, including a gravelled yard to better define Belleville's pop-ups on the bay site from Quinte to West Zwick's Park.
Content of the article
The plan also proposes that the city increase the Belleville Chamber of Commerce's events budget by $50,000 to employ a new staff member under the designation of Zwick Park Engagement Coordinator to harmonize the Pop-Ups and other special in-room events in the park.
Tonya Kraan, co-founder of Strexer Harrop Consulting Group, presented the plan's findings at a special virtual Economic Development and Destination Committee meeting on Thursday.
Kraan postulated that the site improvements would make West Zwick's Park annual summer attraction more welcoming to visitors who frequented nine pop-up vendors and four food trucks in the summer of 2021.
A $75,000 capital budget for the site, she said, could be split three ways to build a new crushed gravel yard just south of the parking lot, to build two double-wide Pop-Up units and to install new lighting, shade equipment and seating.
The committee liked the study and members unanimously agreed to weigh the Pop-Ups project further on the bay's business development plan before a final report is later presented to city council.
In a consultant survey of over 400 residents, respondents said "there was a disconnect, that they were on the [waterfront] track, they couldn't easily access the Pop-Ups and that was the number one thing that was asked by survey respondents," Kraan told the committee.
Respondents wanted "easier trails that were paved or gravel instead of grass to improve accessibility," she said.
Content of the article
"Our recommendation is that we would like you to spend approximately 33%, or $25,000 of your budget, on a gravel [base] which will increase accessibility," Kraan said, adding that it would "reduce the overall maintenance of this site."
Kraan showed a concept drawing of the proposed new yard adjacent to the parking lot which would be linked south by a wide gravel pathway through the wooded area of ​​Zwicks to connect to the Bayshore Waterfront pathway.
No trees would be removed to accommodate the gravel path if approved, she said.
Kraan also suggested the city consider buying awnings to "help cool vendor booths. We strongly recommend getting as many shade canopies as possible within the budget you are able to negotiate with the supplier. »
New benches could also be installed at the back of each stall to give visitors a place to enjoy their food, she said.
Kraan suggested that instead of new bright lighting fixtures needed to illuminate the area for summer evenings, the city could consider alternative forms of colored lighting to add to the ambience of the foodie destination.
The study came up with the idea of ​​creating a new secure licensed section to serve alcohol with the possibility of a permanent structure being built in the future for a long-term alcohol vendor such as a winery or a brasserie to serve visiting customers.
Committee member and former city councilor Egerton Boyce said he's worried $25,000 isn't enough to fund a 2,500-square-foot gravel yard to replace the existing grassed area under the Pop-supplier facility. Up.
Boyce also wondered if instead of gravel, a semi-permeable base would be a better idea for the yard to welcome visitors this summer.