Experts study the business case for building climate and disaster resilient infrastructure
---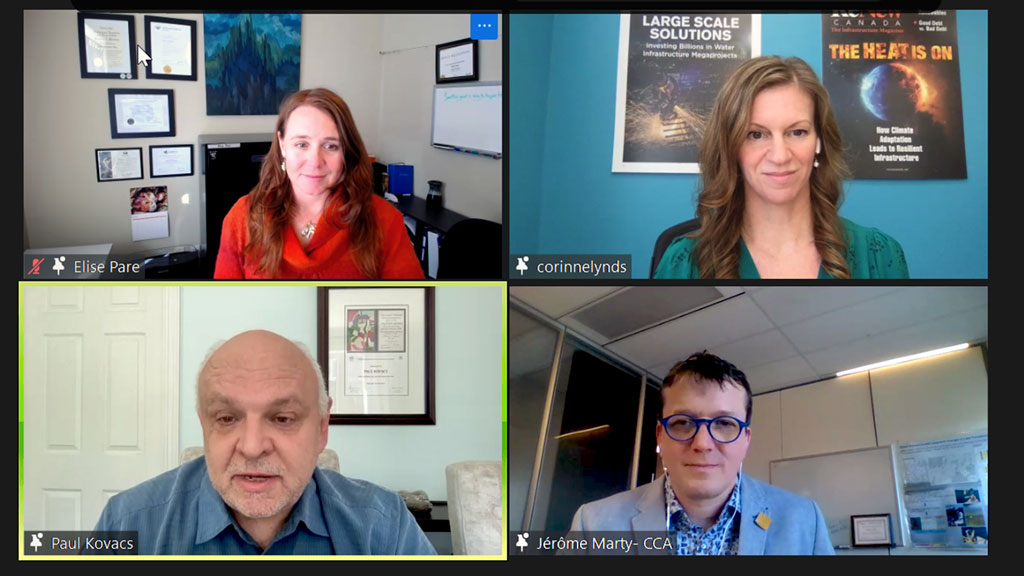 There are huge opportunities for improvement in how Canadians manage climate risks, said Paul Kovacs, executive director of the Institute for Catastrophic Loss Reduction, at a recent roundtable.
The Next Generation Infrastructure Panel: Facing the Challenge of Resilience in the Face of Climate Change, was part of the Industry Association's 2022 Environment and Clean Technology Business and Policy Forum of the Ontario environment.
"Some of the research we do at the institute, we find that there are tens of billions of dollars of direct damage to homes, buildings and infrastructure every year due to climate extremes," Kovacs explained. "(It is) preventable in the sense that we have proven scientific solutions that would have eliminated or certainly reduced the harm we suffer if they had been applied before the event occurred."
Climate risks will get worse, he added.
"The science is there, the knowledge is there, we know the right actions to deal with these risks," Kovacs said. "Some of the evidence from the latest report from the Intergovernmental Panel on Climate Change shows that adaptation is happening."
While there's strong evidence for the benefits of taking preventative measures versus the cost, the even stronger arguments relate to new construction, Kovacs said.
"There is a commitment in this province, in Ontario, for tens of billions of dollars of new infrastructure to come online over the next decade and beyond," Kovacs noted. "The economic benefits of getting it right when we first make the investment are so overwhelming. Here you get savings, five, 10, 15 times the cost if you do it right the first time you set it up.
"There is a huge opportunity to do the right thing about new builds and maintaining our existing one. Of all the different opportunities, the one that is clearest to me in terms of early action is in the area infrastructure," he added.
Jerome Marty, Director of the Council of Canadian Academies, discussed the Building a Resilient Canada report. Climate-related disasters like fires, floods and storms have increased dramatically over the past decades, he noted.
"Resilience is a choice to reduce risk and addressing the root cause of vulnerability and risk exposure is essential," Marty said.
He pointed to the situation in British Columbia where record rainfall triggered landslides in areas where vegetation had been destroyed by wildfires.
"It's part of the new realities for those planning and thinking about how to mitigate the impacts of these events," he said.
"The report really shows that to increase disaster resilience, we need whole-of-society collaborations, all levels that involve government mandates with top-down decisions, but also bottom-up approaches to really engage communities in decision-making. decision and things that will help them reduce the risk of disasters.
Elise Pare, national practice lead for climate risk and resilience at WSP, said it was critical to consider delivering infrastructure that supports communities, the economy and will perform as intended throughout their lifetime. life.
"When we do risk assessments, we look at single events," she pointed out, adding that cascading events can cause problems. "What if this one and this one and this one all manage to create the perfect storm?" Well, we're in a bit of a different situation at this point.
"We face catastrophic events that we don't necessarily always anticipate because we don't think the likelihood of them occurring is high enough to invest in. This is where our mindset needs to change.
As for the future, Pare said there was a need to look at co-benefits.
"Let's look at the areas where we will build resilient communities, build equitable communities, and ensure that our services are sustainable for everyone, no matter where you live," she said. "If you're on reserve in a remote community, you have the same equitable, sustainable, and resilient infrastructure as someone in downtown Toronto.
Kovacs said when building infrastructure, it's important to consider that it should be there for the next 50 or 100 years and to anticipate the world that will be there in the future.
"All the science is there to do it, all the engineering is there to do it, all the tools are there to do it, we just need to commit that the right way to manage our public resources, our funds public, on behalf of Canadians must have this at the heart of the process of managing our infrastructure in the future," he said.
Follow the author on Twitter @DCN_Angela.