First-year student wins first prize in Fowler Business Concept Challenge
---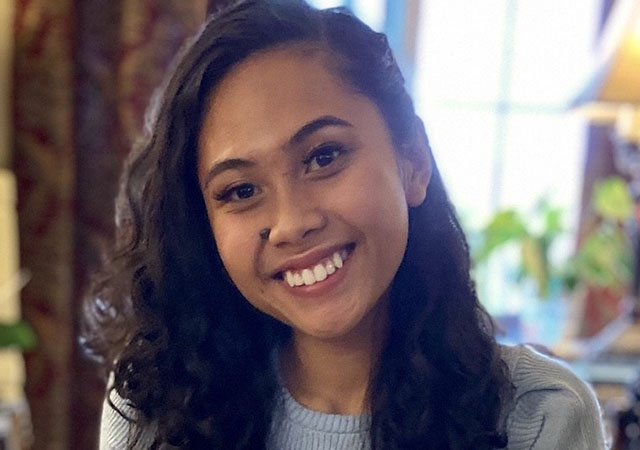 When anxiety, happiness, and a sense of accomplishment occur simultaneously, what does it look like? Well, when the winner of the second Fowler Business Concept Challenge (FBCC) was revealed on Friday, all of the above emotions expressed were in perfect harmony.
"I'm so shocked, eternally grateful, I felt so much emotion when I won," said Harmony Prado, an 18-year-old University of San Diego freshman. "I saw my competition and… oh my gosh I'm the youngest competitor. But I knew I had a strong community supporting me, an amazing mentor and everyone believed in me, so I believed in myself. But I still can't believe I won first place!
Believe it.
Prado, whose idea, Harmony's Room, is a secure digital space / mental health and wellness platform offering emotional support services to young people, won the first scholarship of $ 15,000 from a pool of 45,000 $ generously provided by Ron and Alexis Fowler.
Carl Dumesle '21, MBA student and 2019 FBCC first laureate, had a different idea and finished second, winning $ 7,500 for Anapryze. Brianna Jackson '21 finished third overall with $ 5,000 for Proxy Hairware, and Carlos Hernandez '23, a student at Shiley-Marcos School of Engineering, won $ 3,500 for his idea, Pedals. Two People's Choice Awards of $ 1,000 were awarded to Dumesle and Bella Manning '22 for Wilo & Mae. Twelve semi-finalists each received $ 1,000.
The USD School of Business Innovation and Entrepreneurship Catalyst put on a wonderful virtual event, but the day truly belonged to Prado, who was recognized for his work ethic. Harmony's Room is a concept she first thought about at the age of 15 after struggling with her own mental health issues.
Awareness of mental health has grown significantly as a societal issue affecting people of all ages, genders and ethnicities. Add in the complete lifestyle change due to COVID-19 since March and that's another layer for those experiencing stress, depression, anxiety, and other emotions.
But being a teenager yourself and wanting to help others so that they don't have to endure as much or the same pain as you? Prado is wise beyond his years.
"This is my goal in life. I am extremely dedicated and determined, "she said.
She edged out three other FBCC finalists when they presented their final pitch with several industry executives in attendance online Friday morning. Prado was one of 16 semi-finalists to give a full pitch to the other judges last Tuesday.
Prado may only have been a few months as a Bullfighter, but she had considered the USD to be her main college destination since at least her freshman year of high school. The entrepreneurial community, resources and atmosphere were to Prado's taste. She enjoyed the weekly training sessions for the FBCC, but when she became a semi-finalist, the weekly consultations strengthened her idea and networking skills and she is interested in learning more about other resources on campus. .
"I love entrepreneurship at USD. It's extremely dynamic and it really marked me when I was 16. Now at 18, and even though it's online, I still feel the warmth and the embrace of entrepreneurship here. It's really different from any other community. I think what sets USD apart is its strong community. It raises so many voices, especially with the social impact . I think this is extremely huge, extremely important. I am so grateful to be connected in this space. "
Her other strong connection comes from a familiar source.
"My family is my rock," she said. She has three siblings, but gives special importance to an older sister, Charity, as "her greatest role model, my mentor and the one who introduced me to social entrepreneurship. She coached me. It is a united brotherhood. She showed me how to find where passion meets goal and that's how I started Harmony's Room.
It beta launched its website – www.Harmonysroom.org – earlier this summer. Prado expects a mobile app to be developed by the end of 2020. It already has a partnership with the San Diego Unified School District to begin an implementation model.
As she searches for ways to reach teenage girls, winning the FBCC is a positive step forward for her self-confidence – and just as likely for other young entrepreneurs who see her succeeding.
"Winning this competition really validates my determination," she said. "It doesn't matter how old you are. If you have a passion and you are rooted in that passion, you can go out and accomplish anything.
New idea, bigger impact for Dumesle
Carl Dumesle from Haiti was awarded two scholarships totaling $ 8,500 at Friday's Fowler Business Concept Challenge. In 2019, he and fellow MBA student Bria d'Amours won the first FBCC award of $ 15,000 for their idea called HUGS (Housing for Undergraduate and Graduate Students).
A new idea for the 2020 competition did not earn him the top prize, but Dumesle's entrepreneurial credentials grew with Anapryze. His new idea brings together the words analytics and business, but the main goal is to serve a much larger international population. It wants to be the reference credit data service provider to support all international entrants to the United States
"We believe that people should not be penalized for starting their life in a new country. We are a financial technology company that assesses the creditworthiness of immigrants without the need for a US Social Security number or pre-existing credit score, "Dumesle said.
Anapryze is it an idea of ​​HUGS? Dumesle said it was the other way around. Anapryze tackles the central problem which goes far beyond the simple difficulty of finding accommodation as an international student. The lack of a Social Security number or credit score affects everyone who comes to the United States. He looks forward to building both HUGS and Anapryze.
HUGS is still viable. Dumesle and d'Amours worked on the business model after the Fowler Global Social Innovation Challenge last summer. They will be one of the many companies involved in a Torero Ventures Lab demo day on November 3 from 7-9 p.m. via Zoom.
CCFB Remarks
Friday's virtual event, broadcast on the Accelevents platform, featured comments from USD President James T. Harris, DEd, USD School of Business Dean Timothy Keane, PhD, Director of Catalyzer Priya Kannan, PhD and Catalyzer Strategic Advisor Amit Kakkad, PhD. Another important aspect of the FBCC program was a roundtable that brought together key executives from San Diego Gas & Electric (CEO Caroline Winn), Sony (President / COO Mike Fasulo), Petco (CEO Ron Coughlin) and Susan Mallory, member of the USD Board of Directors. talk about how their organizations and affiliations have leveraged entrepreneurial thinking in these trying times with COVID-19 protocols and pivot. Many of the panel members also attended the FBCC finalist presentations on Friday morning. " I am delighted. Our students have made us so proud, "said Kannan. Each of the panelists said they were impressed with the student presenters, the ideas and the event. … Following the announcement of the awards, the Catalyzer opened the platform to one-to-one networking opportunities. … The 12 remaining semi-finalists and their idea names: Eden Zakay '21, Faculty of Law, Clauset; Omar Araiza '22, School of Business, Discover Good; Robert Gavauglio '21, Business School, Doki – Take control of your health; Amanda Larson '21, Kroc School of Peace Studies, LYFlaunch; George Laning '22, Business school, morning restart; Jennifer Walters '23, Business School, My Fitness Witness; Jack Bonnes '22, Business School, Redi Go; Caleb Moser '24, Faculty of Law, Autonomous traveler from the South-West; Vanessa Ybarra '21, School of Leadership and Educational Sciences, The Ability Bus; Bella Manning '22, Business School, Wilo & Mae; Jennifer Almada '21, College of Arts and Sciences, ThreeBidz; Taylor Brown '22, Shiley-Marcos School of Engineering /Raquel Kennedy '22, School of Business, You Go Curl.
– Ryan T. Blystone