Outsourcing in Private Equity: A Business Case Now Too Substantial to Ignore
---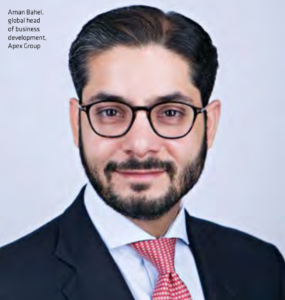 Once again, 2022 offers huge growth opportunities for private equity firms as well as a range of challenges – how does this impact their demands on service providers?
Private equity is still doing what it has been doing for years, which is investing in a company, taking it from point A to point B, generating value for a variety of stakeholders and company itself, to then participate in the financial increase at the end of this trip.
Against a backdrop of rising interest rates, inflation, a buoyant M&A market and continued investor appetite for private capital, asset managers face a series of new challenges and complexities. . In a nutshell, the story is one of growth and expansion – many of the same things, but also new jurisdictions and asset classes.
To keep pace, they need highly skilled and trained staff who understand this dynamic shift of attracting clients into evolving structures, with increased portfolio and investor-level liquidity, while operating in a landscape ever-changing and complex regulations. Then it all needs to be backed by technology fit for purpose.
This is nuanced when looking at different regions. In the United States or the Americas, a large majority of managers still do a lot of work internally, whereas in Europe and Asia it's actually quite different.
We step in to address these challenges due to what many refer to as "the big quit", staff migration, hybrid working or simply the decision that they no longer want to be in a particular industry. There is a talent shortage from the perspective of our clients.
Outsourcing, in its most traditional sense, has always meant fund administration, transfer agency and some basic regulatory reporting that we have been doing for ages and that the industry appreciates and understands.
We are now entering this middle office for private equity, which looks different for different strategies, while ESG is also becoming more embedded in the overall manager workflow.
Besides the operational benefits and the ability to focus on their core objectives, were you able to quantify the cost savings of working with a third-party service provider?
Forrester Consulting recently released its independent report that reveals the kind of savings we are delivering to our clients, both qualitatively and quantitatively. On average, the cost benefits – looking forward to a multi-year perspective – are approximately $5.4 million for an institutional client if they choose to partner with Apex Group.
If you look at the vast majority of where those savings come from, about 72%, or about $3.9 million, is cost savings on internal staff. Another 16% comes from technology costs. Then 5% from the productivity recovery of our clients' internal operations and finance teams. There is also the added qualitative benefit of happy customers and happy internal employees as they work on more qualitative aspects of the value chain. Finally, there is 6% that we have mapped that reduce the costs of creating foreign entities and ESG practices.
This business case is just too substantial to ignore. Everyone wants to double in size because the demand or investor appetite continues to be there, but you have to overcome the sizable challenges before you can scale. You need to partner with a vendor that has a truly global presence and operating model, the breadth and depth of products and technology, and the flexibility to scale solutions.
Many of these companies have traditionally performed the majority of their functions in-house. What factors should they consider when considering outsourcing some of these functions?
People tend to consider outsourcing certain 'functions', but in our experience, it's best to break down the value chain into 'processes'. By this I mean that an executed function will be composed of several underlying processes and then each process is managed by some permutation or combination of technology and operations.
It's really about breaking down the functions and the value streams in those processes and seeing where we, as a third-party provider, can add value.
Let's take the traditional monitoring of private equity portfolios as a prime example. Functionally, things have to keep happening from a manager's perspective, in collecting mass financial data to run various models so that they are comfortable with the numbers on a quarterly basis.
There are absolutely aspects of that that we can take away: data collection, cleaning, analysis, and feeding into a system that we have in a shared data format. We may share this information with customers and they still incorporate it into their proprietary valuation models, but rather than operationally spending time on this data, they may rely on a third party vendor to do this and aggregate it for them. .
ESG is another obvious one, but it is a stack of data, expertise and information in its own right that needs to be collected, recorded and analyzed within a defined framework.
That leads us nicely to our next question. ESG rightly remains a major concern for this industry. What effect does outsourcing have on a company's ESG commitments?
ESG is particularly close to my heart and it is a fundamental philosophy within our firm. ESG aspects are manifold, but in the context of outsourcing, managers today mainly fall into two categories. We see ESG as a compliance checklist from a regulatory perspective to ensure they are compliant with their investors' requirements.
The other, operates with ESG as its core strategy and philosophy and may have done so well for a long time. For them, it's really about entering a holding or investment company and being a positive vector on ESG.
In these respects, our industry has rapidly moved from a 'nice to have' to a 'need to have', and with a changing regulatory environment – 'required to have'.
Either way, there is a growing need for operations and technology; therefore, you need people who understand ESG, to develop a sustainable framework and who can apply it to your business, whether you have 50 years of experience or are setting up shop for the first time. It is important to note that ESG principles and applications are not standing still, so the team and infrastructure must keep pace with this evolution across all asset classes.
Once you have your framework and strategy, and perhaps figured out how you are going to capture all the ESG data and information associated with your investments, you need to ask yourself, "How do I report all this data?" How am I going to visualize it, understand it, dissect it and render it? »
From our perspective, the first step for us was to "follow the path" from a business perspective. Among a series of initiatives, we are particularly proud to have offset our lifetime carbon emissions since Apex was founded nearly two decades ago.
The second part is what we have built as our ESG rating and advisory solution for our clients and our core outsourcing function.
Again, going back to the report, about 6% of the savings comes from customers using a vendor like us for ESG, so there's a direct cost savings associated with that, but there's also an ESG outcome that resulting. Personally, I think that's a higher added value, because what we do is done through a very distinct and separate team.
It is not a risk-based ESG approach, it is a qualitative and value-added approach. We track between 40 and 400 data points on the underlying investments, then report on the vector of progress on these ESG measures with a gap analysis based on the industry, in which a private company could operate.
Boards or managers can actually manage change with gap analysis that shows them that if you did these three things, the score would move X percentage points and you went from a laggard to a leader in that particular aspect – all without having to make a fixed investment internally, other than in people who can absorb that information and drive change with it.
I am encouraged that our industry is expanding the scope of our definition of "returns" – paying quantitative and qualitative dividends for generations, and I am pleased that we are in a leadership position to support this momentum.